Cardinal Surveys Company


U.S. Patent 4199680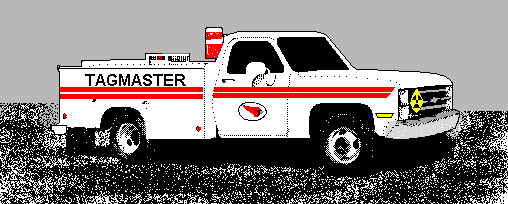 High Pressure Advantages
Tagmaster ® Advantages
Tagmaster ® Specifications
Radioactive Isotopes
---
Introduction
The Tagmaster ® was developed in the late 1970's. At that time, Cardinal Surveys was part of the larger Cardinal Companies. The Tagmaster ® design, construction, and testing were all done with the first-hand feed back of our own treating company (Cardinal Chemical), wireline company (Cardinal Surveys), and radiation lab. Testing led to progressive design changes resulting in the Tagmaster ® becoming the safest and most accurate tagging system in the oil industry.
---
Down Stream, High Pressure Tagging
Tagging a treatment down stream of the pumps has many inherent advantages over injecting radioactive material in the low pressure pump intakes. They are as follows:
No surface equipment, (pumps, blender, manifold, etc...), has radioactive material passing through it. This prevents a build up of contamination that will accumulate to a point where field personnel will be exposed, not only to the R/A passing through the system, but also to the residue contamination from past tags. These units can become too contaminated to be legally operated!
Radioactive Contamination Comparison

The R/A flush is instantaneous. There is no opportunity for any particles to become trapped in the surface equipment that might release during flush.
If a frac treatment screens out to surface, all contamination will be down stream from the "T" assembly.
If there is a R/A spill, it will be in an area with no personnel in the immediate vicinity.
Personnel exposure is kept to a minimum.
---
Tagmaster ® ADVANTAGES
Placement of R/A Storage

While chronic exposure to low level radiation is hazardous, the immediate danger is from exposure to the R/A in concentration. Many systems store the R/A on, or near, charged fluid lines. If the line should burst you could have a dangerous and expensive problem to contend with. The Tagmaster ® stores R/A in concentration 50 - 100 feet away from all treating lines.

R/A Storage

Containment pots for the R/A are mounted in the back-center of the Tagmaster ®. The pots are plastic coated, steal containers that have approximately one inch of lead shielding. This gives our technicians a minimum of 5, half-value layer shields for Iridium 192, our primary isotope used in the Tagmaster ®.

Professional Tagging Technicians

All of Cardinal's technicians have received government approved training programs. They are trained in the proper methods of containment, clean up, A.L.A.R.A. techniques, Cardinal's regulations, and government regulations concerning the transportation, use, and exposure limits of radioactive materials.

Tagmaster ® Quality Control Log

The Tagmaster ® Quality Control Log is an optional service offered by Cardinal Surveys Company. A PC based data acquisition system that monitors radiation intensity of injected materials during the stimulation.

RSO

Cardinal's Radiation Safety Officer is responsible for safety, training, and regulatory compliance where radioactive materials are involved. The RSO maintains and reviews records of Before & After Location Surveys, Personnel Exposure (whole body and thyroid bioassay), and monitors Cardinal facilities.

He also holds a prominent position in the Radiation Safety Committee. Records and procedures are periodically reviewed by the committee to make changes where needed to enhance our A.L.A.R.A. program.

Isotope Quality Control

Cardinal has the majority of isotopes we use in the Tagmaster ® targeted by the Nuclear Science Center at Texas A&M University. Our control of materials supplied for targeting and follow up testing ,with a state of the art 4096 channel spectrum analyzer, assures quality and quantity control.

Experience

No one else can offer your the knowledge, quality, and dependability gained by the successful completion of over 5,000 tags since 1980. We also have extensive experience in logging after stimmulations. See more information in our GAMMA TROL - II Page.
---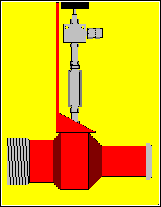 Tagmaster ® Specifications
4140 Carbon Steal "T"
Weco 1502 connections
20,000 psi working pressure valve
20,000 psi working pressure check valve
14,000 psi working pressure hose with 40,000 psi minimum burst
20,000 psi working pressure manifold
4 - Plastic coated, steal contaiment pots with 1" of lead sheilding
---
Radioactive Isotopes Used At Cardinal Surveys
Isotope
Atomic Symbol
Half-Life
Special Concerns
Photopeaks Mev
Iodine
131I
8.04 days
Thyroid Seeker
9.99 (X-ray), 0.08, 0.2843, 0.3645, 0.638, 0.724
Iridium
192IR
74.2 days
None
0.067 (X-ray), 0.140 (Compton), 0.210 (Compton), 0.315, 0.470, 0.605, 0.79, 0.90 (sholder)
Scandium
46SC
83.8 days
High Beta/Energy
0.887, 1.119, (0.89 plus 1.1 sum peak)
Antimony
124SB
60.2 days
High Beta
0.603, 0.645 (hidden shoulder), 0.722 (shoulder peak), 1.30 - 1.37, 1.69, 2.09, (1.69 plus 0.603 sum peak)
Gold
198AU
2.696 days
High Beta
0.412
Bromine
82BR
35.34 hours
High Energy
0.55, 0.61, 0.7, 0.77, 1.04, 1.33, 1.48, 1.90, 2.14
---
Top Of Document
High Pressure Advantages
Tagmaster ® Advantages
Tagmaster ® Specifications
Feed Back
Cardinal Welcome Page