Cardinal Surveys Company
TRAC-III Production Logging
---
PROCEDURE
WELL PREPARATION
Introduction
Cardinal Surveys has been in the production logging business since 1963. Production logging has been our primary focus throught out our 33 years of service to the oil and gas industry.
Cardinal's TRAC-III logging string consists of a Scintillation Gamma Ray Detector, (micro-processor controlled) Radioactive Ejector, Collar Locator, Capacitance Probe, Caliper, and Temperature Tool. All sensors come in 7/8" O.D., 1" O.D., 1 1/4" O.D., and 1 3/8" O.D. cases.
Some benefits of running TRAC-III's are:
Document baseline production profile for future references.

Verify effectiveness of well treatments.

Discover unwanted water sources for remedial procedures.

Correlate production results with injection profiles for sweep efficiency of floods.
---
Well Parameters For Example Procedure
Production
20 BPD Oil
210 BPD Water
100 MCFD Gas
Surface Pressure
<300 PSI
Casing
5.5"
Tubing
2.875"
Packer
5500'
Perforations
5600' - 6000'
PBTD
6100'
---
Cardinal Surveys Company
TRAC-III Procedure
YourCo Inc. Miller #21
The following procedure represents the fundamental steps needed to accomplish most TRAC-III applications. However, due to the investigative nature of production logging, it must be noted that the following procedure may be modified at any point in order to optimize the definition of events or abnormalities. This procedure should be considered as a general plan of action.
Conduct tailgate safety meeting to identify location hazards, review well information, review test objectives, and make necessary plans to maximize safety and test results. Contact Mr. Stuff N. Box at 555-555-5555 or Darrell Norris at 432-580-8061 if any more information is needed.

Rig up Cardinal Surveys logging unit on Miller #21 and conduct the pre-job wellhead radiation survey.

Attach Cardinal Surveys 1 3/8" O. D. TRAC-III tool string which consists of a Rope Socket (1.375" x 15" with a 5/8" fishing neck), Capacitance Tool (1.375" x 40"), Caliper (1.375" x 69"), Collar Locator (1.375" x 28.5"), Scintillation Gammaray Detector (1.375" x 60"), Microprocessor Controlled Ejector (1.375" x 75.5") with I-131 as the tracer isotope, and a Temperature Tool (1.375" x 37").

Install 5,000# lubricator and test for leaks.

Pressure up lubricator and secure wellhead.

RIH with TRAC-III tool string into the tubing.

Run Flowing Temperature and CCL Logs from 5,400 to 6,100.

Run Gammaray and CCL Logs from 6,100 to 5,400. Correlate Gammaray and CCL logs to supplied correlation log. Adjust depth measurement from Wireline Depth to Measured Depth.

Return TRAC-III logging string to T.D. at 6,100 and run Capacitance Log from 6,100 to 5,400.

Return TRAC-III logging string to T.D. at 6,100 and run Caliper from 6,100 to 5,400.

Place TRAC-III logging string above the zone of interest 5600 - 6000 and eject a slug of radioactive material. As the slug travels up hole with the flow, make at least 3 passes through the material with the recorder set to depth drive. Note the delta times from peak to peak. This will allow for a 100% velocity reading.

Repeat step 11 two more times.

Repeat step 11 in areas between perforated intervals or between areas of interest in the openhole section. Please refer to the caliper results from 5600 - 6000 when placing the radioactive slugs. Try to avoid areas of drastic I. D. change to minimize the error in the velocity measurements.

Eject a slug of radioactive material below the zone 5600 - 6000 and above T.D. at 6,100. Eject the slug as low as possible if there is no rathole. Make several passes through the material to determine if there is any flow coming from below T.D. in the wellbore.

Shut-in production at wing valve.

Allow well to remain static for approximately one hour.

Run a Shut-in Temperature Log from 5,400 to 6,100.

Cross Flow Checks, Shoot a series of radioactive slugs approximately 50 feet apart across the zone 5600 - 6000 and make timed passes through all the slugs at the same time to determine if there is any cross flow between zones.

Run a Shut-in Temperature Log from 5,400 to 6,100 approximately 2 hours after the well has been shut-in.

It may be desirable to pull a Shut-in Capacitance Log at this point from 6,100 to 5,400.

POOH with Cardinal Survey's TRAC-III production logging tool string.

Rig down equipment, return well to prior status, and conduct the post job wellhead radiation survey.

Contact the YourCo Inc. field representative to give preliminary results and the current status of Miller #21.
---
Well Preparation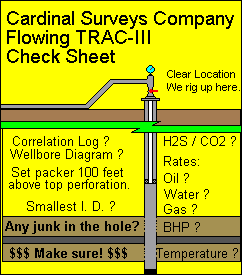 Location

We must be able to back our logging unit up to within 2 to 3 feet of the wellhead. Please remove any tubing, B.O.P., etc.. from the location.

Stabilization

Stable producing conditions are crucial to running a TRAC-III that will give insight to the wells normal production characteristics. This is important when the test objective is to see the well's production profile. It is also important for determining the effects of a past stimulation that has not performed as expected.

If we run a TRAC-III immediately after the well has been worked over, it will only tell us what the well does at that particular point in time. You want to allow the production to stabilize, unless (drum roll) you have had a sudden, big increase in your water production.

It does not matter if this increase of water production was brought on by a stimulation, direct channel from an offset injector, or natural causes. Get busy, prepare your well for a TRAC-III and call Cardinal. Time is critical. Don't wait for stabilization. There is a strong possibility this new water is from a higher pressure source than anything you've been producing. In these situations we regularly see crossflow into the proven oil zones. We need to find the water source so that you can take remedial action. Remember, you will have to recover all those barrels of water that cross flowed in before you will get your production back.
Top Of Document
Procedure
Well Preparation
Feed Back
Cardinal Welcome Page