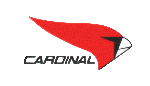 For mobile users
Cardinal Surveys has been in the production logging business since 1963. Production logging has been our primary focus throught out our 45 years of service to the oil and gas industry.

Cardinal's TRAC-III logging string consists of a Scintillation Gamma Ray Detector, (micro-processor controlled) Radioactive Ejector, Collar Locator, Capacitance Probe, Caliper, and Temperature Tool. All sensors come in 7/8" O.D., 1" O.D., 1 1/4" O.D., and 1 3/8" O.D. cases.
Some benefits of running TRAC-III's are:
- Document baseline production profile for future reference.
- Verify effectiveness of well treatments.
- Discover unwanted water sources for remedial procedures.
- Correlate production results with injection profiles for sweep efficiency of floods.
Cardinal Surveys provides state-of-the-art radioactive tracers for monitoring the placement of well treatment fluids. The Tagmaster is a proprietary pumping system which has undergone many evolutionary steps to become the best tagging technology available today.

Multiple isotopes are available for sequential tagging of fluids and slurries. Flexibility and accurate control are hallmarks of the latest, improved system. Coupled with knowledgeable, experienced personnel, the Tagmaster system is the best bet to monitor placement of fracturing, acidizing, cementing, or any stimulation or pumped fluids.

Top Home

Gamma Trol II

GAMMA TROL II is a combination of Temperature and Gamma Ray logging used determine the placement of well simulations and treatments. After a tracer is applied to the stimulation fluid or slurry, the Gamma Trol II log is run to locate and verify the proper placement of treatment fluids.

In addition to placement of fluids, the Gamma Trol II log can provide valuable information about migration between zones, relative treatment efficiency between zones, and containment.

Top Home

Injection Profile

The Injection profile uses a combination of soluable radioactive tracers, temperature and caliper (well bore diameter) logs to accurately determine the flow-path and end location of field-flood injection.

As operators deplete a primary field, water as well as more complex injection agents such as CO2 are introduced into production formations to help sweep additional hydrocarbons from the pay. The Injection Profile log identify where the injected fluids exit the well-bore, and also where they end up.

Top Home

Interface Log

Top Home

Gamma Spec Trol

Top Home

Step Rate Testing

Top Home